Rent Real or Artificial Christmas Trees From 4ft – 15ft In The Standard Range Or Hire 14ft – 30ft in the Extra-Large Artificial Range. Short term hire available all year round.
Welcome To Simply Plants, Specialists In Christmas Tree Hire.
Are you looking to hire a 4ft – 30ft Christmas tree for your business, TV studio, Film set, event or commercial production? Our standard range trees can be hired up to a height of 15ft. We also have our extra-large range. The stunning extra large Cedar fir artificial Christmas tree has been designed and manufactured by Simply Plants in the UK. It can be rented at heights from 14ft up to 30ft and can be used indoors or outdoors. Its built around a strong steel frame with beautiful realistic branches allowing it to be bolted to the floor and/or have ballast added for stability in the unpredictable British weather.
Our beautiful displays will make your space stand out and can be hired short term all year round. There are many sectors that can benefit from professional commercial Christmas services. Bring some joy to your employees and customers this festive season.
Commercial Artificial Christmas Tree Rental
Sizes available: 4ft – 30ft.
Full service including installation, decoration and removal.
High quality steel frames designed and manufactured in the UK.
Indoor or outdoor use.
Ballast and/or bolted to the floor for outdoor trees.
Design your own tree decorations and colour scheme to match your corporate image or brand.
P.A.T tested lights.
Risk assessments and method statements.
Appropriate insurances for tree installation
Short term Christmas tree event hire, TV and Film productions all year round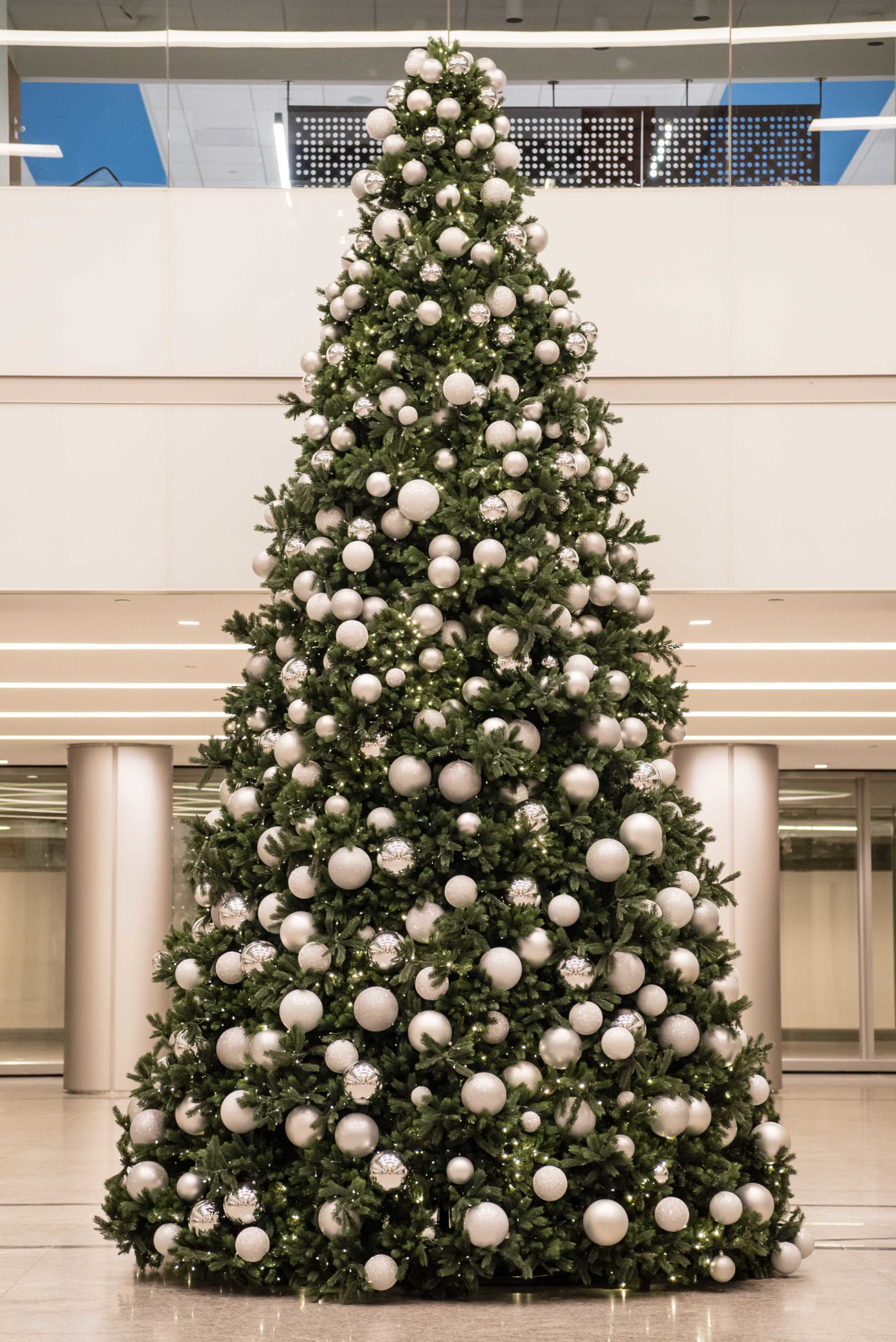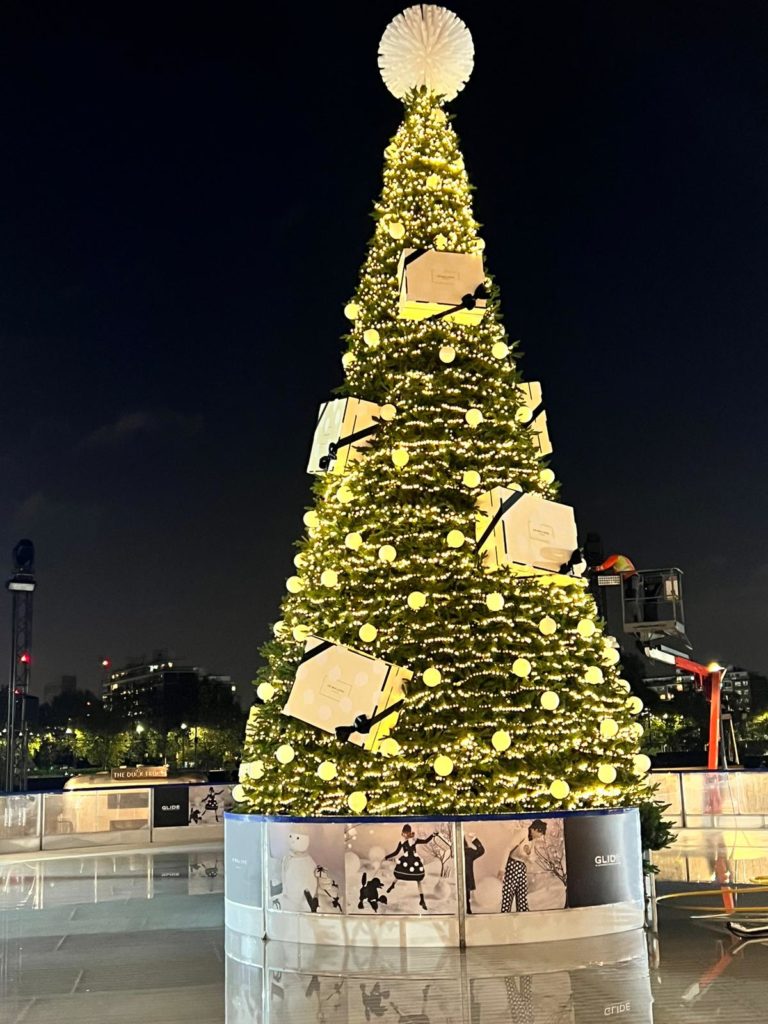 Christmas Tree Rental: Save Time, Space and Money
Christmas is a busy time with a lot going on and many festive activities. Don't waste your employees time and labor with buying and installing decorations that don't match your corporate image and look like they have been an afterthought.
Let Us Take The Strain
Have a hassle-free, productive festive season by letting Simply Plants take care of everything for you. We will turn up with pre-arranged risk assessments, method statements, PAT tested lights and insurances.
Design Ideas
Struggling for Christmas tree ideas? Our experts at Simply Plants will create a design to match your corporate image or brand requirements.
On A Tight Budget?
We can tailor your commercial Christmas trees, decorations and displays to your budget. You will be amazed how far we can stretch your money.
Experienced and Knowledgeable
Simply Plants have many years of experience in the Christmas industry and have knowledge to help you come up with a fantastic festive display for your office, retail park, hotel, or any other commercial space. We are able to offer a stunning range of Christmas trees and decorations in different styles and sizes.
Christmas Trees and Decoration Hire FAQs
Do You Hire Commercial Christmas Trees And Decorations Across The UK?
We rent a range of commercial Christmas trees and decorations across the UK. Hiring allows you to change the colour and style of your trees and decorations every year, and means you don't have to worry about storage, installation, removal, risk assessments, method statements and insurance as we take care of that for you.
How Do I book A Christmas Tree Or Decoration Service?
When you hire Christmas trees or decorations there is no need to worry about storage, installation, removal or disposal of the displays. Simply Plants take care of all of that and our team will make sure your workspace is back to normal after the festive period. Just contact us using the form at the bottom of this page with your requirements and we will be in touch asap.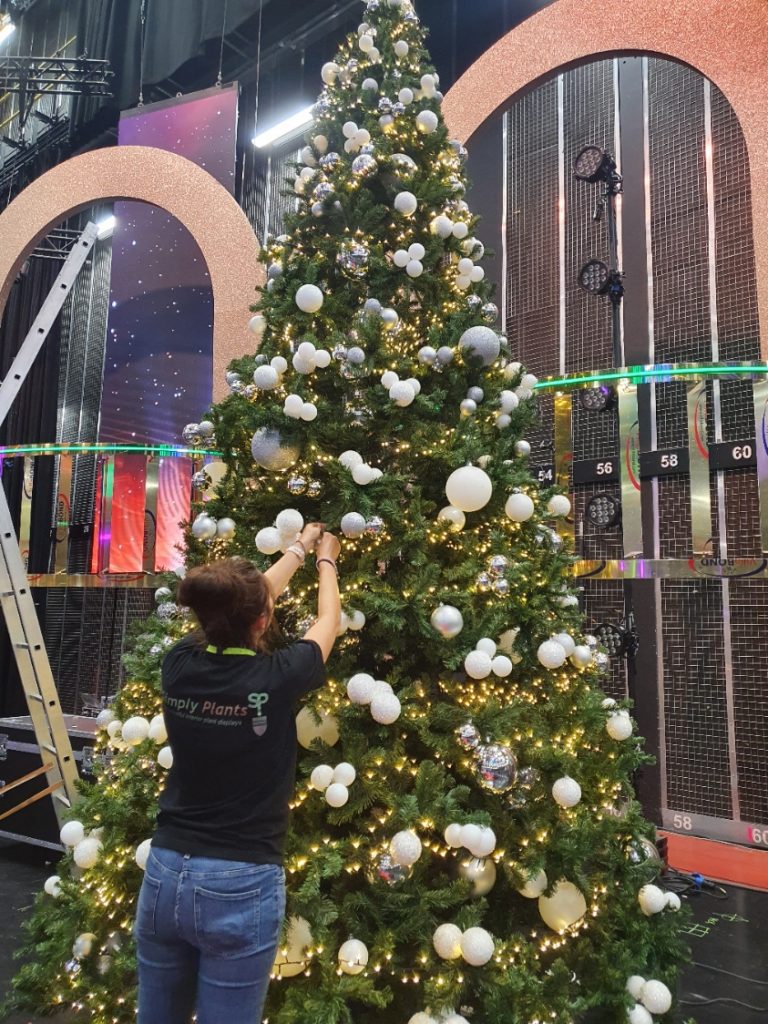 Experts at Christmas tree installations.
Large artificial Christmas trees.
Real or artificial Christmas tree hire.
Commercial, business and councils
Christmas tree hire for Events
Make your event stand out.
The Christmas tree specialists
.
Any time of year, any event
Christmas Tree Hire For Events, TV studios, Film sets and commercial production companies.
If you need Christmas trees or decorations for TV studios, film sets, an event or exhibition  you can arrange short term hire. Just contact us using the form at the bottom of this page to make the arrangements. We regularly do events at many of the exhibition centres such as the NEC Birmingham, O2, London, Excel and Manchester Central convention complex. We have also worked with ITV, Sky films and done many commercials.
Do You Hire Extra-Large Commercial Christmas Trees And Displays?
We supply large commercial Christmas trees and decorations ideal for businesses, retail, atriums, receptions, outdoor town squares or shop floors.  We install giant artificial Christmas trees across the UK. Our extra-large cedar fir artificial Christmas trees come in the following sizes: 16ft, 18ft, 20ft, 22ft, 24ft, 26ft, 28ft up to an impressive 30ft.
Can The Extra-Large Artificial Christmas Trees Be Used Outside?
Yes, our giant artificial Christmas trees can be used both indoor and outdoors. If you want to have your tree outside, we will need to visit the site where the tree is to be placed so we can do a site survey. The tree can be bolted to the ground and/or ballast added for stability.
When Is The Best Time To Book My Festive Displays?
As soon as you can, but we can still provide Christmas decorations at short notice. We can provide trees and decorations with as little as one weeks' notice if we have availability.
For extra-large Christmas trees and decorations, we would ask you to book as soon as possible. Our Large commercial trees are sometimes made to order and often bespoke, so booking early is essential to avoid disappointment.
When will you deliver the trees and decorations?
If booking for Christmas you can pick any week from November onwards depending on your requirements. If you book early we will work with you and do our best to deliver as close to the day you require but we can not guarantee any day, only the week you have picked. We get booked up very quickly so please book early to secure your preferred week.
Please take a look at the video on the right to view some of Simply Plants festive work.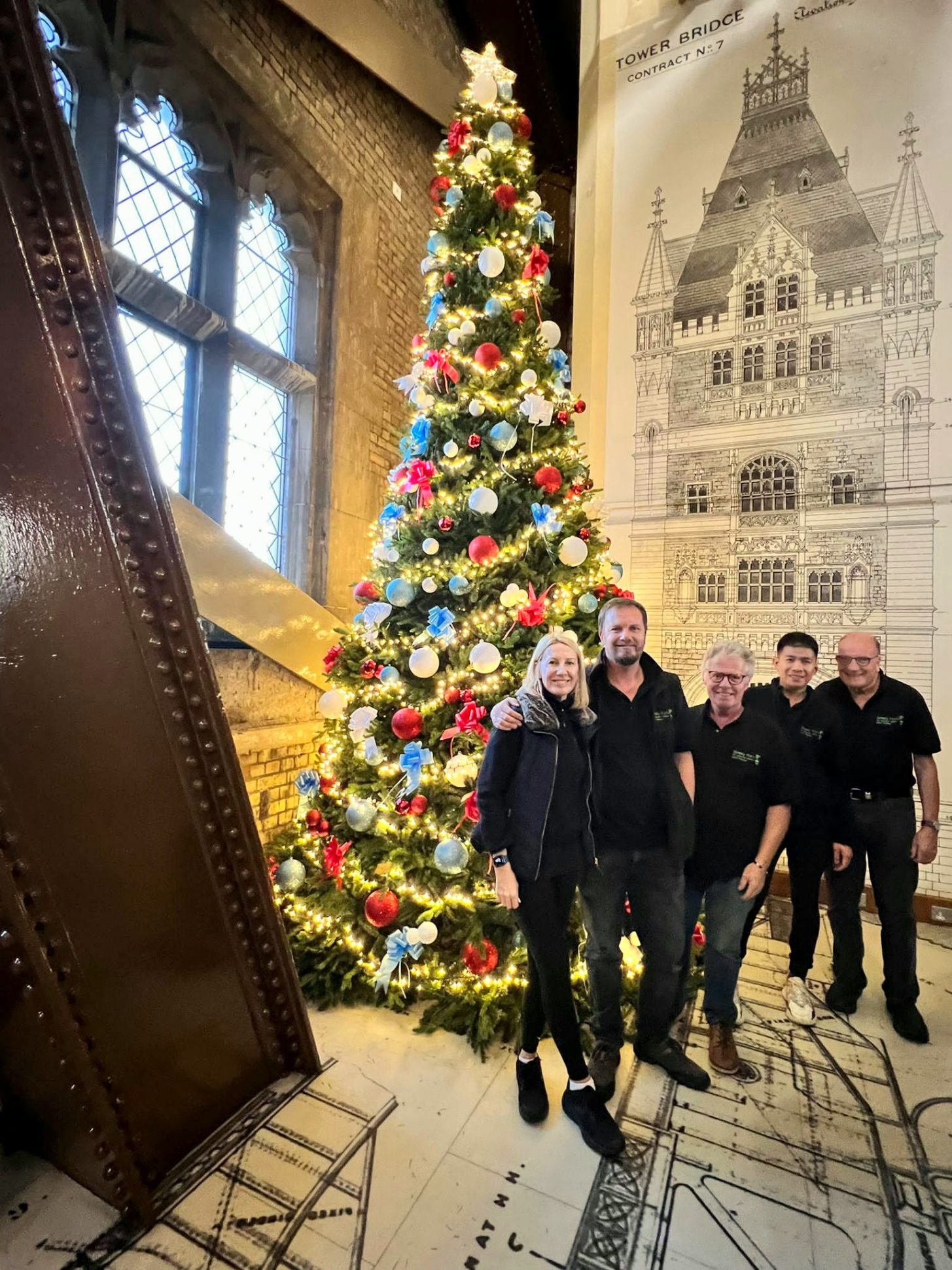 How do I rent a Christmas tree and decorations?
Its simply. All you have to do is fill in one of our decoration request forms with what you are looking for, a colour scheme, your contact details and Location. One of our team will then be in-touch to confirm the details of the order, answer any questions and organise any requests. We only service businesses and corporate settings. We do not do installations in homes. 
How do I pay for my order?
Rent a Christmas tree or other decorations from us and after the order has been delivered we will issue your corporate office address with an invoice which you can pay by BACS, credit card or PayPal. For larger trees above 12ft a deposit will be required to secure your tree and date.   
What areas do you deliver in?
We rent and hire large Christmas trees above 12ft across the UK. For smaller trees we deliver from London and surrounding areas all the way up to York and everywhere in-between. Please see our Locations page to check if we deliver in your area but please contact us or call us on 03335776232 if you are outside that area and would like a quote.