It's getting closer and closer to that season people love… the Christmas holidays! The office may be a place of work, but that doesn't mean you can't spruce up your business to celebrate Christmas with decorations and festive activities. Don't forget, many Christmas games will also be the perfect way to get some team building in before ending for the holidays! Not only is this great for morale, but also in boosting the productivity of your team as they await the holiday dates.
In this article, we are going to share our favourite 4 ways that you can celebrate Christmas in the office this year and spread cheer among employees.
4 Ways To Celebrate Christmas In The Office
Dedicate A Day To Christmas Food!
The feeling of warm hot chocolate in your hands, the smell of mince pies cooking through the kitchen, and the sizzling of pigs and blankets are all moments we remember from Christmas. This is why a day or evening dedicated to Christmas food is a great way for your team to come together and cook their favourite dishes for their colleagues! 
Speaking of mince pies… did you know that you should eat 1 mince pie on each of the 12 days of Christmas to bring good luck?
Hold An Office Christmas Party!
Christmas parties are the perfect activity rewarding employees for their hard work over the year. You can include party games for the night including your secret santa reveal, a Christmas quiz, a christmas sweater competition and any other festive games that pop to mind! Your Christmas holiday party is also the best opportunity to hold an awards ceremony, giving employees recognition for specific areas that they have thrived in this year. You can then pair this with a thoughtful Christmas card to add to this 'giving' time of year.
For the special evening, renting a photo booth will let you capture all the amazing memories made at the event. People can then take fun photos with their colleagues in their Christmas jumpers and Santa hats to keep, and then be put up around the office as decoration.
A creative way to include photographs in your decoration is to clip the images to Christmas wreaths, which you can then hang on doors for people to see as they wander through the office. If on a budget, you could also use mirrors already in the office and place the prints in the frames.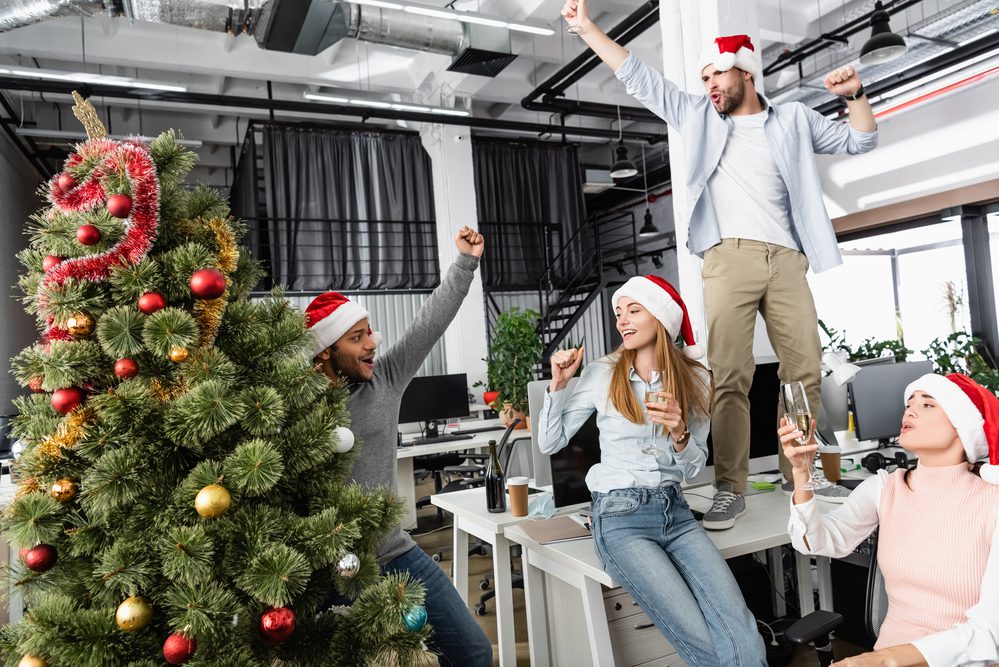 Rent A Christmas Tree For The Festive Period!
Decorating is a key part of how we can celebrate Christmas in the office. From bunting to tinsel, ornaments to fairy lights, there are many different ways that you can bring some smiles to the workplace after spending so much time away this year. 
However, before the decorations, there is one main addition for you to invest in… A Christmas tree hire! With us at Simply Plants, you can rent a Christmas tree for delivery and even have it cleared away without the hassle of sorting it to be removed yourself. 
Once the tree arrives, you can then get the team together to decorate it, and bring in a piece of decoration each to make it that bit more personal! The best part about our Christmas tree rentals is that there are a huge variety of sizes, and the option to choose from artificial or real depending on your space and desires. If your business is busy or simply would rather have external decorators, we even offer a decoration service that can match your corporate colours and brighten up the space perfectly.